Our Philosophy
"Each individual is very important. Each person has tremendous potential. She or he alone can influence the lives of others within communities, nations, within and beyond her or his own time."
– Muhammad Yunus.
About us
"Seed Planter is an impact-driven organization with mission to nurture & develop capability for aspiring and early-stage entrepreneurs to create lasting social & environmental changes through sustainable startups & business models, which balance purpose & profit. Founded in 2018, we are specialized in training programs, community events & mentoring networks to equip entrepreneurs with relevant skills, mindsets & resources. In 2019, Seed Planter received Blue Swallow award for its effort in supporting social business initiative fo​​r sustainable development in Vietnam."
Our vision
All people in Vietnam will have access to entrepreneurship education which enables them to make a positive impact on society.
Co-founder
Product & Partnership Development Lead
To Tuan Anh, leadership is not a title or position, it is a journey of living pursued by those who are gifted at nurturing empathy with their community concerns, seizing opportunity to serve and create movement. This fundamental belief is the flame lighting him up as a passionate advocator for human capability enlightenment & leadership development for social change in the last 06 years. Tuan Anh has been through various management positions in AIESEC Vietnam, dedicated himself in shaping the way the organization inspires thousand youths to grow into community change agents. Being certified as leadership facilitator by British Council, Tuan Anh has developed his expertise in designing & delivering diverse types of experiential activities to foster self awareness, promote intercultural dialogues and establish effective collaboration. Currently Tuan Anh has his career path as Human Resource Business Partner in Unilever, world top corporate in sustainability ranking, while volunteering at Seed Planter as Program Management Lead. He puts trust in collective effort from multiple sectors, both private & non-private, in co-creation of breakthrough social impact.
See more

See less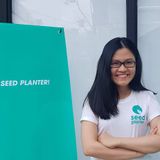 Co-founder head of people & culture
Linh Le is the founder and director at Seed Planter. Linh believes in the power of unreasonable people and the power of entrepreneurship in solving the most challenging social and environmental problem. Linh has diverse experience in Southeast Asia startup ecosystem and social entrepreneurship ecosystem. She worked as a venture capitalist at CyberAgent Ventures (Vietnam + Thailand) and Patamar Capital, a community builder at MassChallenge Accelerator Israel and Yunus Center at AIT, and an advisor at social business TBK Greenfood. Linh has supported many startups and impact enterprises, raising millions of funding in the past few years. She earned an MBA degree in Entrepreneurship from Babson College in Boston, US, the school ranked number 1 in Entrepreneurship by US news and founded Seed Planter when she was in her first year MBA. .
See more

See less

Founder
Beyond her expertise as a market researcher, Amy shows her strong passion for fostering an ecosystem for social enterprises and sustainable development practices in Vietnam and South-East Asia. Her journey of doing social good started in 2008 as a volunteer for Solidarités Jeunesses Vietnam, serving in Vietnam National Hospital of Pediatrics. She then took part in a summer pro bono program for animal welfare in India and devoted 5 years to activating international youth leadership through AIESEC in Asia-Pacific. Amy has become a certified facilitator for British Council' s Active Citizens program since 2014, advocating the concept of learning through intercultural dialogue and promoting the development of local and global communities through social action projects. Amy is now leading Product and Partnership development for Seed Planter.
See more

See less

Contact us
Seed Planter always looks forward to partnerships with corporates and foundations as well as expands mentors and funders network to support impact entrepreneurs.
313/1 Nguyen Tieu La, Ward 8, District 10, Tp. Ho Chi Minh.
0934 323 882
info.seedplanter@gmail.com